Detalii produs
Detalii
Clapari Dalbello Krypton KR Pro 130
Caracteristici:
FIT
Last: 98 mm – This performance fitting Cabrio Design Architecture last shape features precise tapering in rearfoot and achilles' zones with narrow forefoot volume. Dalbello's most accurate and close fitting anatomic last shape features innovative Contour 4 fit technology.

Contour 4 Shell Fit – Contour 4 Technology is a revolutionary technological advance in performance ski boot fitting. The anatomical contours of the inside sidewalls of the boot-shell, as well as the innerboot lasts, are precisely "mapped" to the shape of the typical high performance skier's foot. A little extra "space" is molded into the inside of the boot shell at 4 critical fit points: ankle, heel, 5th metatarsal, and navicular.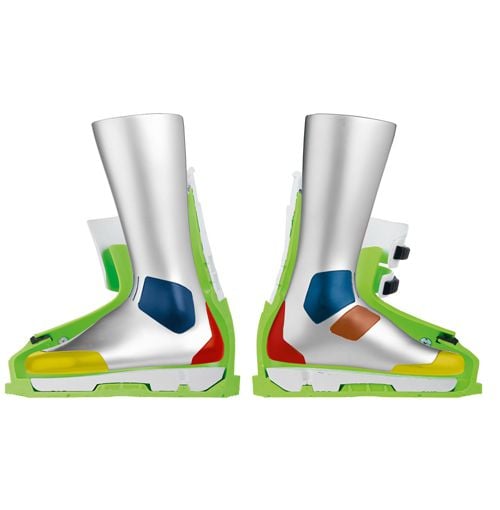 FLEX
Flex: 130 – As stiff as a freeride boot gets; meant for expert skiers who know where they're going and intend on doing it quickly.

B and C Interchangeable Tongues – In addition to Dalbello's 'B' tongue with a flex of 130, the boot also comes with an interchangeable 'C' tongue, which is around 10-15 flex points softer.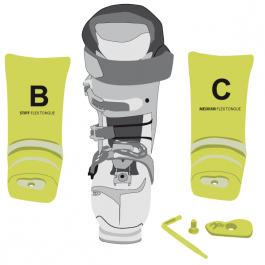 LINER
I.D. (Intuition®/Dalbello) Thermo Pro Liner – Developed by Dalbello's R&D department in conjunction with Intuition® Sport, I.D. Thermo Liners offer full-liner customization upon heat molding, even in the sole. The Thermo Pro Liner has a no-tongue overlapping cuff and is made entirely from High Density Intuition® EVA foam. With the strongest warmth to weight ratio of any I.D. Thermo liner, the Pro Liner is lightweight, warm, and provides maximum resistance to compression/packing down.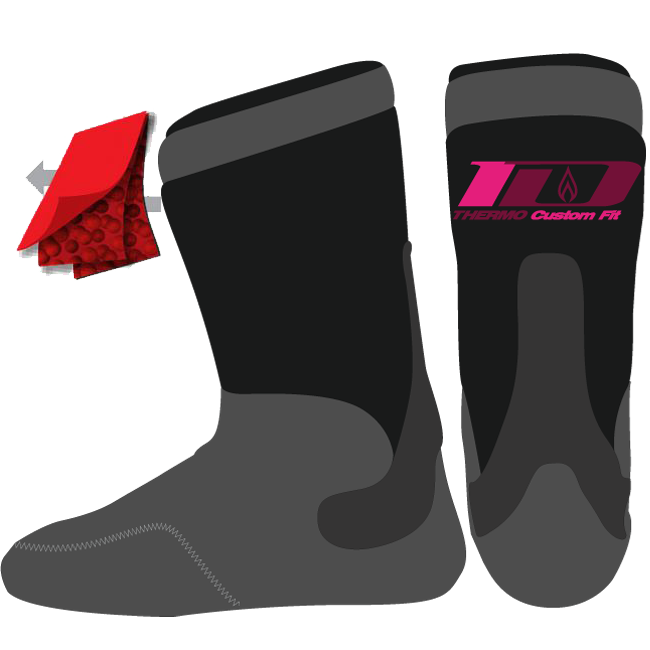 SHELL MATERIALS
Cabrio Design Architecture – Dalbello's critically acclaimed, 3 Piece Cabrio Design architecture has been the cornerstone of their performance, all mountain, and freestyle models for more than a decade. This unique construction combines a 3 piece construction assembly - shell/cuff/tongue – that comfortably secures the foot and lower leg while optimizing smooth and progressive flexibility. Dalbello's Cabrio models provide the ultimate in responsive performance to ski your best. Cabrio Design permits the use of stiffer and more rigid plastics in the lower shell. This strengthens the support around the foot and lower leg providing quick response and precise transfer of power to the ski edges. This design also prevents the lower shell from distorting and bulging as the boot flexes, making the boot more smooth and stable at high speeds and on irregular terrain.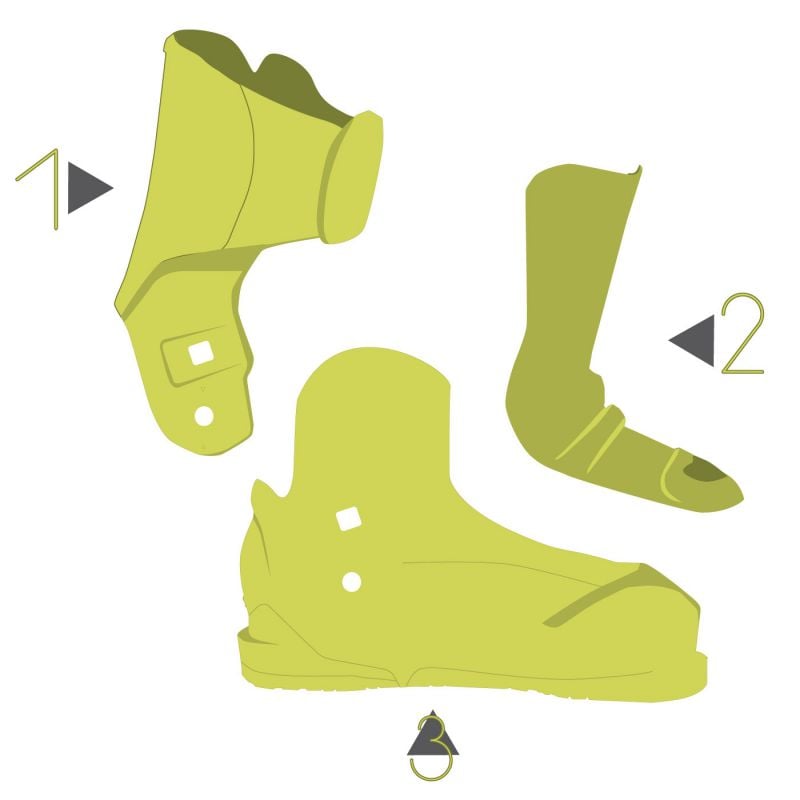 Polyurethane Bi-Injected Cuff – Two different density materials fused into one structure to combine power (hard) with comfort and a convenient entry (soft).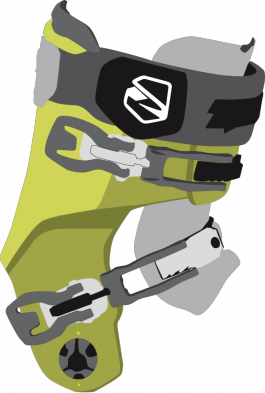 Kinetic Response Tongue – Highly resilient polyamide (Nylon) tongue provides enhanced sensitivity. Improves responsiveness and control.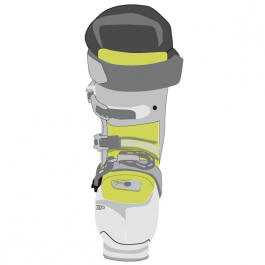 Shell/Cuff/Tongue – PU (Polyurethane) / Bi-Injected PU / PA (Polyamide)
STANCE
Center Balanced "Rocker" Stance – Foot angle, cant angle, and cuff inclination engineered into the shell and cuff positions skiers in a balanced and centered stance for optimum dynamic performance.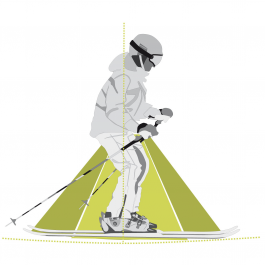 Adjustable Twin Cuff Alignment – Permits skiers to align the lateral inclination of the upper cuff to the skier's leg. Outside and inside hinge cuff alignment using 5mm hex tool, rotate the mechanism clockwise, or counterclockwise, to align boot cuff to desired position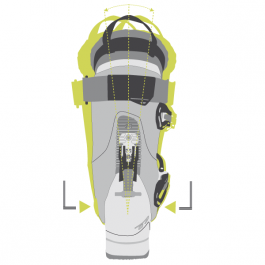 Adjustable Forward Lean – To change the forward lean angle, Forward Lean control wedges may be inserted between the lower shell and cuff. Wedges are secured to the rear shell with a 3mm Hex Head Screw. Two different FL inserts: 4 mm insert = 11° (stock) 8 mm insert = 13° (in box)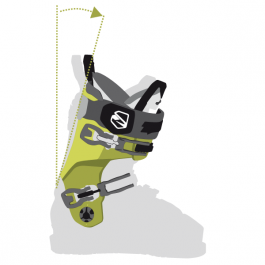 BUCKLES
3 F16 Aluminum Micro-Adjustable Buckles (1 Inverted) – Forefoot closure buckle above the instep is inverted and designed to close on the top of the boot shell, not on the side. The top closure positioning prevents buckle breakage and bending during rail slides, grinds, falls, and transitions.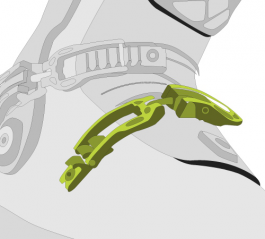 Dynalink Rearfoot Retention – Dynalink is an independently functioning heel/instep closure band assembly that secures the skier's foot in the middle and rearfoot sections of the ski boot. During boot flex, the Dynalink band does not permit the foot to slide forward or the heel to lift lifting inside the boot shell.
POWER STRAP
Velcro
SOLE
Solid Lug Boot Sole – Sole construction for power energy transmission and unmatched sensitivity and ski feel.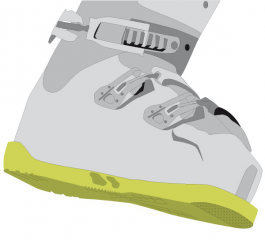 Interchangeable Bootboards – In addition to a firm bootboard placed under the liner, this boot also comes with a softer, "anti-shock" bootboard for shock absorption in high-impact skiing.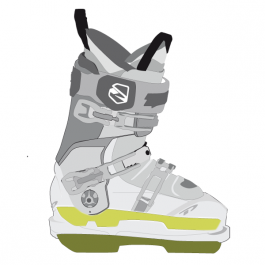 Ability Level:

Advanced-Expert

Ski Boot Flex:

Very Stiff

Forefoot Width:

98 mm

Flex Index:

130

Boot Sole Type:

Alpine DIN (ISO 5355)

Includes Tech Fittings:

No

Number of Buckles:

3

Warranty:

1 Year
Informatii aditionale: In cazul in care nu sunteti multumit de produs il puteti returna in termen de 10 zile.
Informatii transport si plata: Produsul se pate ridica din magazinul nostru din Sacele sau se poate livra prin Cargus. Livrarea este gratuita iar plata se face ramburs.
Mai multe informatii
Pareri